Although winter wedding is statistically the least held of the year, in reality, winter weddings can do more than you imagine. The entire season is filled with a sense of enchantment and magic. This season arrives with so many emblems of romance: dreamy snowy landscapes, roaring fires, and celestial-inspired place-setting. What's more, the celebratory spirit around the holidays can bring an added sense of merry to your big day. Choosing a winter wedding color scheme will be an important part of your planning process if you're getting married between November to March.
Keep scrolling to learn the most popular winter color palette for 2022&2023.
Burgundy&Mulberry&Red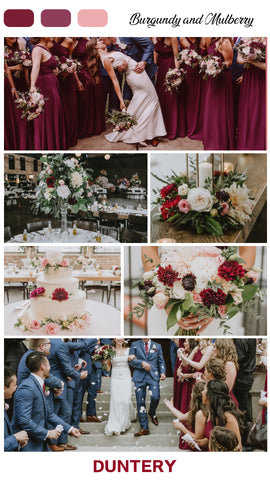 Turn Christmas red on its head with a moody palette of berry-toned hues. From wine to ruby, various shades of red go off-the-beaten-holiday path by adding dimension and texture.
A richly hued bouquet in burgundy and red looks showstopping against a white wedding dress. Adorn a circular arch with lush greenery and crimson and white blooms for an industrial look that's freshened up with a garden touch. Select burgundy or something red for your bridal squad, which would add another sense of holiday celebration to your big day.
Moss and olive green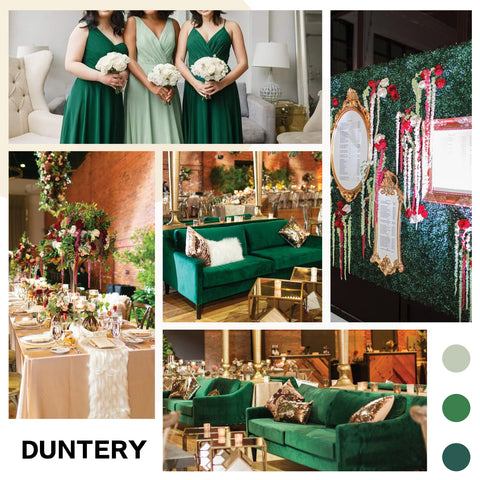 We love these muted winter wedding colors. Moss and olive green fit into a wintry aesthetic without being over-the-top seasonal. These colors are also ideal if you're going for a vintage wedding theme, since they pair beautifully with candle decor, antiques, and dark wood pieces.
Shop Duntery's bridesmaid dresses in Moss and Olive Green.
Champagne&Gold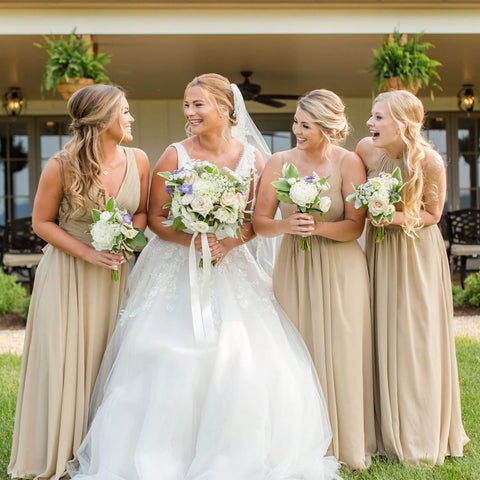 For a wedding that's glimmering and gleaming, decorate your wedding with something gold. This effortless winter wedding color scheme is one of the most timeless options for your big day.
Shop Duntery's bridesmaid dresses in Champagne and Gold. Perfectly match your whole wedding theme.
Dusty Blue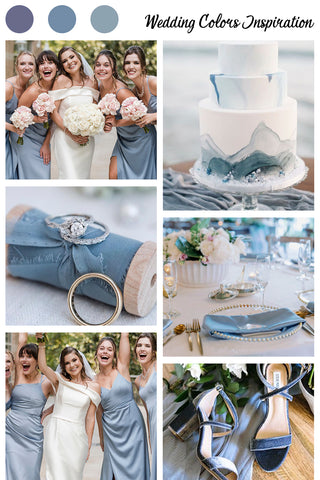 Dusty blue paired with silvers, whites, greys, and lilacs, easily create the ultimate winter wonderland appeal. This look is best served at lavishly decorated banquet halls or perhaps a cabin in the mountains. Accent your bridal attire with silver and dusty blue, and ask your bridesmaids to wear gowns in those colors. Adorn your tables and archways with dusty blue, white, and lilac flowers. Complete the whole look for your wedding.
Shop Duntery's bridesmaid dresses in dusty blue.
Lavender&Gray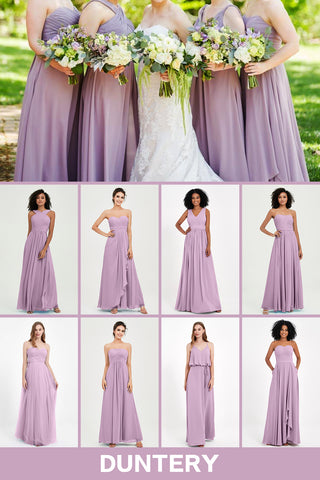 This color combo introduces a sense of subtle passion and delicacy to your wedding. This is a nice contrast to the harshness of winter. If you are a bride who pursuits elegance and grace, lavender and gray colors would be the best palette for your winter wedding.
Shop Duntery's bridesmaid dresses in Lavender.
White&Ivory
An all-white ceremony is so stark and stunning that give this winter-inspired setting a modern feel, perfect for a city wedding. Send guests walking into a winter wonderland with an all-white wedding, which would be fantastic and amazing.
Carrying a bouquet of all-white roses against a white wedding dress, you'll look purely angelic. Not only does the look evoke winter magic, it's also a total classic.
Top winter wedding color palettes have been rounded up above. But please make a big picture in mind, which means to consider your whole wedding theme, wedding gown, bridesmaid dresses, venue, bouquet. Then you'll make your dreamy and romantic winter wedding come true.